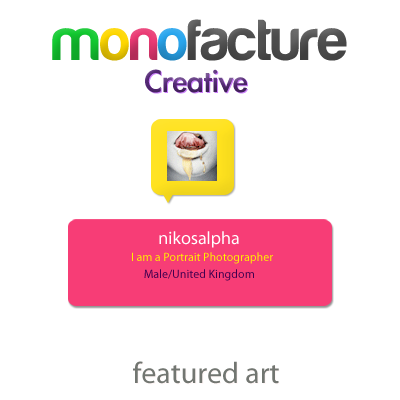 :thumb144824194:

:thumb88678305:



CathieGraphy:
What is the biggest lesson you've learned in your photography journey so far?
`nikosalpha:Photography is a time-freezing technique that works very impressive when used by more than one people at the same time. I started photography, seeing it as a diary medium but I realised is much more than that in the process.

maxiride:
How do you catch the natural behaviour? Do you ask your models to pose or just behave as they wish?
`nikosalpha:What natural behaviour? Most of my photos are posed and they don't pretend to be natural. I guess I just take enough photos so I can just select the most "relaxed-looking" ones later.

oO-Rein-Oo:
What kind of light equipment do you use for outdoor shootings?
`nikosalpha:When I am outdoors I just use natural light and several kinds of reflectors 95% of the times. I'd like to "play" more with mixed light (artificial and natural) but I don't have the right equipment at the moment.

maxiride:
How much heavy is the retouching with the computer to correct the photos?
`nikosalpha:The post work is quite heavy I'll have to admit. I think is equally important as the shooting itself. Light tweaks, body&face modifications and special effects. I will have available online some of it for a new project of mine.